Post by F. Guillemot on 2013-07-19 11:54:52
Dreaming of Money in Ho Chi Minh City
Allison J. Truitt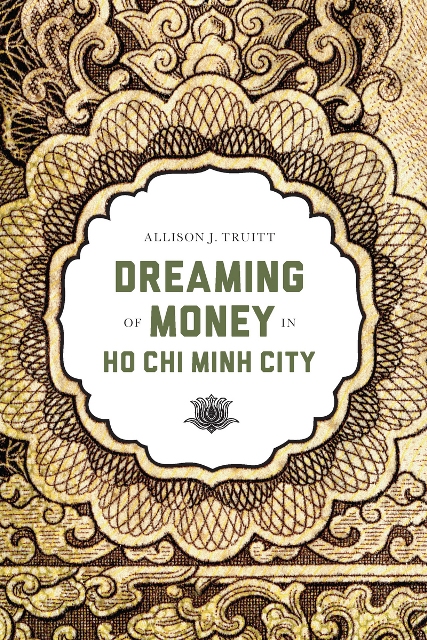 The expanding use of money in contemporary Vietnam has been propelled by the rise of new markets, digital telecommunications, and an ideological emphasis on money's autonomy from the state. People in Vietnam use the metaphor of "open doors" to describe their everyday experiences of market liberalization and to designate the end of Vietnam's postwar social isolation and return to a consumer-oriented environment. Dreaming of Money in Ho Chi Minh City examines how money is redefining social identities, moral economies, and economic citizenship in Vietnam. It shows how people use money as a standard of value to measure social and moral worth, how money is used to create new hierarchies of privilege and to limit freedom, and how both domestic and global monetary politics affect the cultural politics of identity in Vietnam.

Drawing on interviews with shopkeepers, bankers, vendors, and foreign investors, Allison Truitt explores the function of money in everyday life. From counterfeit currencies to streetside lotteries, from gold shops to crowded temples, she relates money's restructuring to performances of identity. By locating money in domains often relegated to the margins of the economy-households, religion, and gender- she demonstrates how money is shaping ordinary people's sense of belonging and citizenship in Vietnam.

Allison J. Truitt is assistant professor of anthropology at Tulane University.
Published: June 2013
Subject Listing: Anthropology, Asian Studies
Bibliographic information: 224 pp., 20 illus., notes, bibliog., index, 6 x 9 in.
Series: Critical Dialogues in Southeast Asian Studies
Source : University of Washington Press
0 commentary
| tag:
| rating: ***** | print